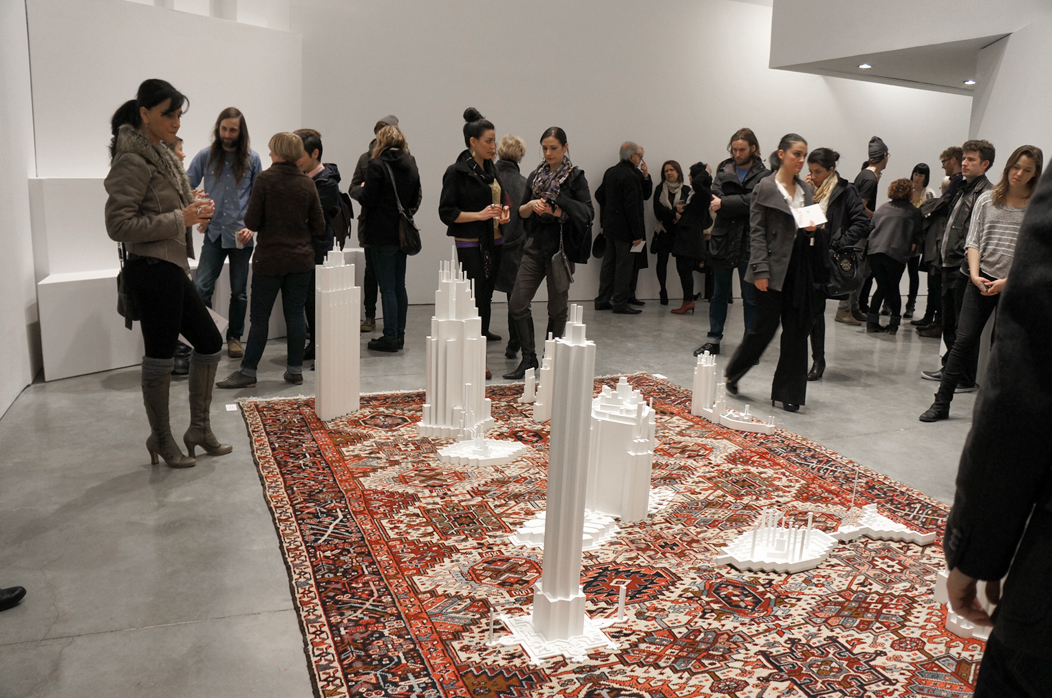 Grounds For Standing and Understanding, 2012
Grounds for Standing and Understanding, is an installation that utilizes the design elements and intricate patterns of a Persian carpet as a foundation to literally "draw up" and transform into three-dimensional scale models that resemble architectural mega-towers. These sculptural forms recall some early modernist architectural styles such as Brutalism, Russian Constructivism and Art Deco, as well as, referencing buildings recently constructed in parts of Asia and the Middle East.
The recognized pattern represents a blueprint for the imaginary urban composition, depicting a template for additional walls to the existing gallery space. While the scaled down architectural models are extruded from the tracings of the carpet's pattern, the extended built walls in the gallery are sections of the architectural models magnified eight times in scale.
The result is an installation that produces a critique of the ideologies underpinning architecture while questioning the effectual use of the space, probing spatial problems that encourage bodily engagement on the part of the viewer.
Grounds For Standing and Understanding, 2012 (Installation view at Charles H. Scott Gallery, Vancouver)
Dimensions varied
Wood, drywall, interior paint
Photo: Scott Massey

Courtesy of Studio Babak Golkar and The Jameel Collection, London
Grounds For Standing and Understanding, 2012 (Installation view at Charles H. Scott Gallery, Vancouver)
Dimensions varied
Persian carpet, wood, lacquer, drywall, interior paint
Photo: Scott Massey
Courtesy of Studio Babak Golkar and The Jameel Collection, London