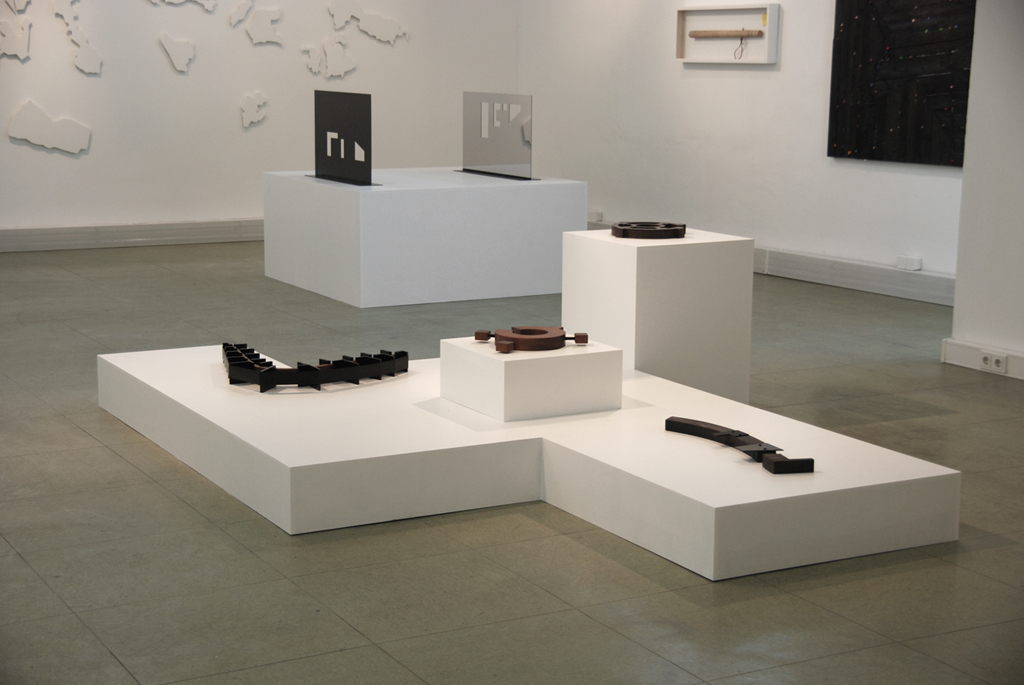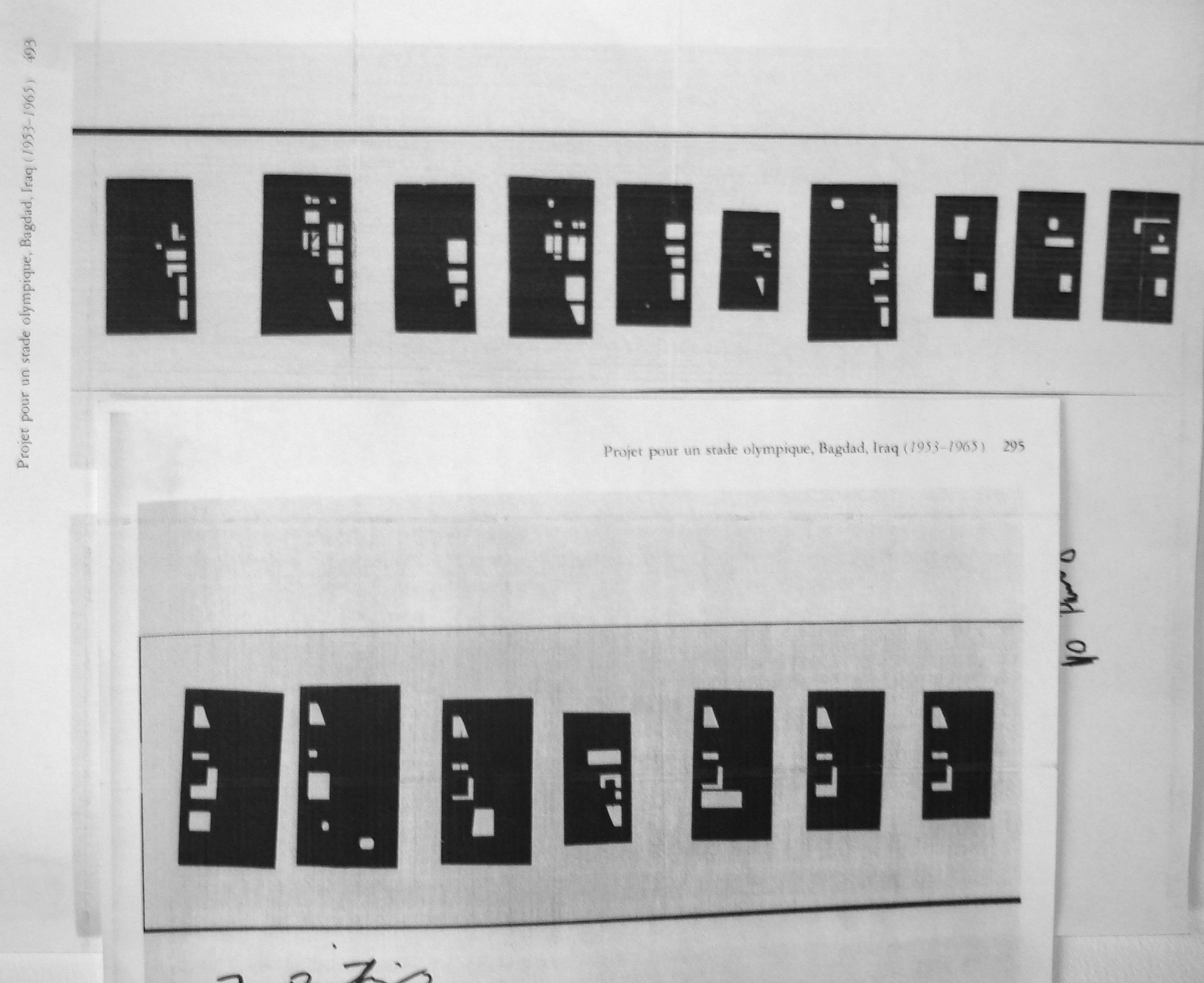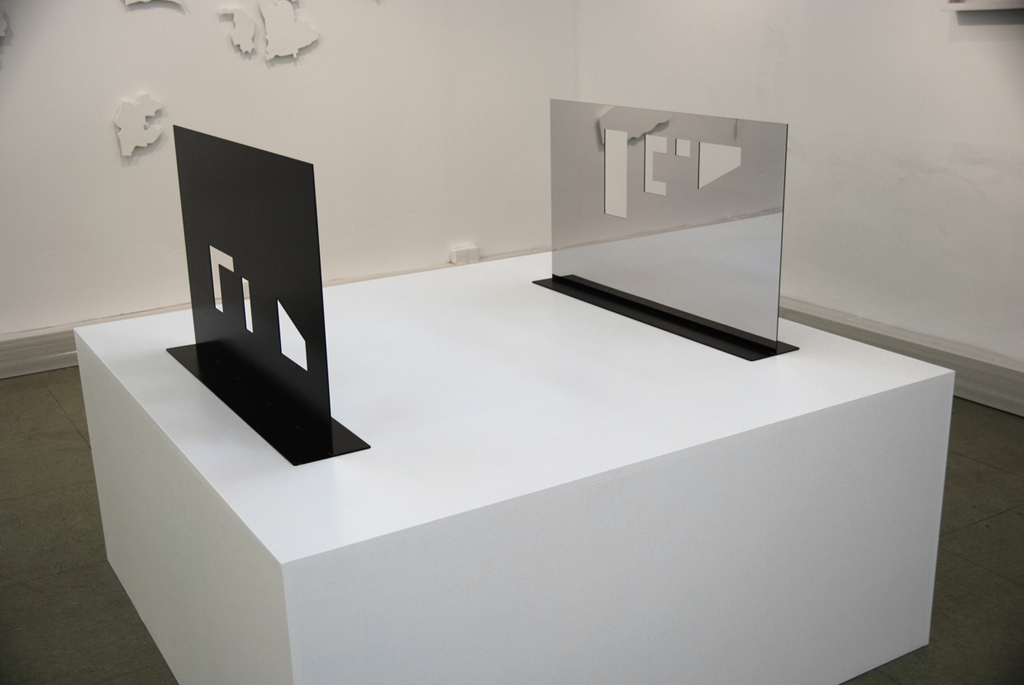 Le Corbusier Derivatives (Above: Original Le Corbusier drawings)
Series of sculptures fabricated loosely based on Le Corbusier's drawings for the Olympic Stadium in Baghdad, which he drafted between 1957-1965. Even though he produced 950 drawings for the complex, Le Corbusier never saw it being realized and, in fact, it was not until 1981 when Saddam Hussein got a hold of the original plans and built a bastardized version of it.
What happened in the years following proved to be a perversion of the Modernist visionary's idealization of the Man, sports and Modernity itself. In the late 1980's Uday Hussein, Saddam's eldest son, was appointed as the head of the Iraq's Olympic Committee and the Iraqi Soccer Federation. While holding those positions until his last days in 2003, he used the stadium as a training camp for sportsmen, but also for torturing and executing them each time they lost in an international match.
While retaining the aesthetics and techniques used in some modern furniture designs, the components of Le Corbusier Derivatives recall Medieval torture devices through the use of specific material and scaling of the objects to the scale of a human body.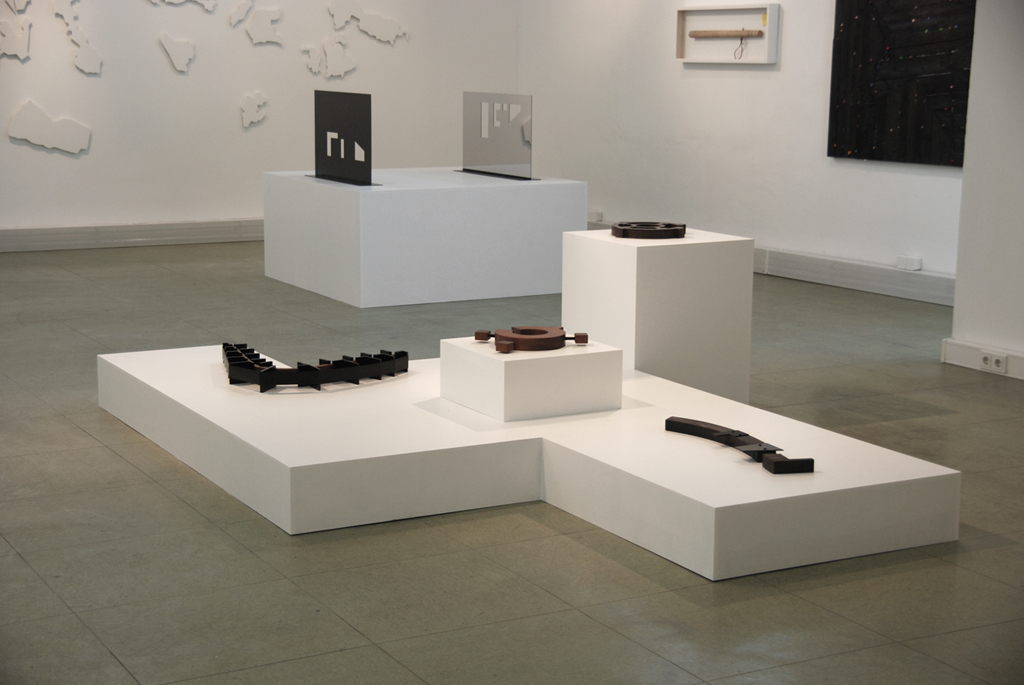 Le Corbusier Derivatives, 2009-2013 (Installation view at BrotKunsthalle, Vienna)
Courtesy of Studio Babak Golkar and the Third Line gallery
L.C. I, 2009-2013
Dimensions: 16" (L) x 16" (W) x 2" (D)
Wood, stain, aircraft cable, metal screws, paint
Courtesy of Studio Babak Golkar and the Third Line gallery
L.C. I, 2009-2013 (detail)
Dimensions: 16" (L) x 16" (W) x 2" (D)
Wood, stain, aircraft cable, metal screws, paint
Courtesy of Studio Babak Golkar and the Third Line gallery
L.C. II, 2009-2013
Dimensions: 15" (L) x 15" (W) x 2" (D)

Wood, stain, metal, paint
Courtesy of Studio Babak Golkar and the Third Line gallery
L.C. II, 2009-2013 (detail)
Dimensions: 15" (L) x 15" (W) x 2" (D)

Wood, stain, metal, paint
Courtesy of Studio Babak Golkar and the Third Line gallery
L.C. III, 2009-2013
Dimensions: 22" (L) x 24" (W) x 4" (D)
Wood, stain, leather, metal screws
Courtesy of Studio Babak Golkar and the Third Line gallery
L.C. III, 2009-2013 (detail)
Dimensions: 22" (L) x 24" (W) x 4" (D)
Wood, stain, leather, metal screws
Courtesy of Studio Babak Golkar and the Third Line gallery
L.C. III, 2009-2013 (detail)
Dimensions: 22" (L) x 24" (W) x 4" (D)
Wood, stain, leather, metal screws
Courtesy of Studio Babak Golkar and the Third Line gallery
L.C. III, 2009-2013 (detail)
Dimensions: 22" (L) x 24" (W) x 4" (D)
Wood, stain, leather, metal screws
Courtesy of Studio Babak Golkar and the Third Line gallery
L.C. III, 2009-2013 (detail)
Dimensions: 22" (L) x 24" (W) x 4" (D)
Wood, stain, leather, metal screws
Courtesy of Studio Babak Golkar and the Third Line gallery
L.C. IV, 2009-2013
Dimensions: 26" (L) x 4.5" (W) x 2" (D)

Wood, Perspex, leather, stain, metal screws
Courtesy of Studio Babak Golkar and the Third Line gallery
L.C. IV, 2009-2013 (detail)
Dimensions: 26" (L) x 4.5" (W) x 2" (D)

Wood, Perspex, leather, stain, metal screws
Courtesy of Studio Babak Golkar and the Third Line gallery
L.C. IV, 2009-2013 (detail)
Dimensions: 26" (L) x 4.5" (W) x 2" (D)

Wood, Perspex, leather, stain, metal screws
Courtesy of Studio Babak Golkar and the Third Line gallery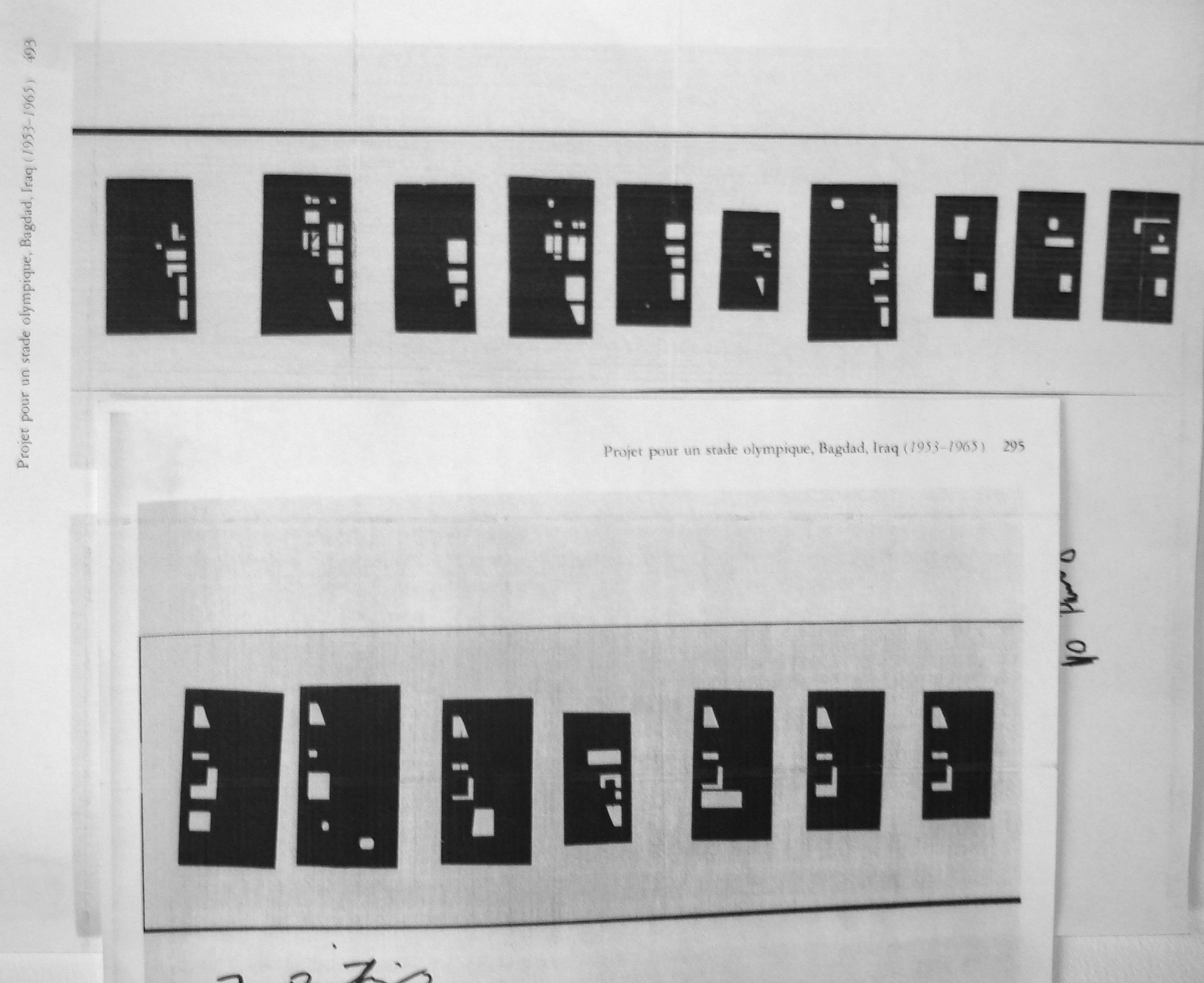 Le Corbusier Derivatives (Above: Original Le Corbusier drawings)
Einfriedung I, 2012
Dimensions: 35" (L) x 21" (W) x 6" (D)
Stainless steel mirror, industrial paint
Courtesy of Studio Babak Golkar and the Third Line gallery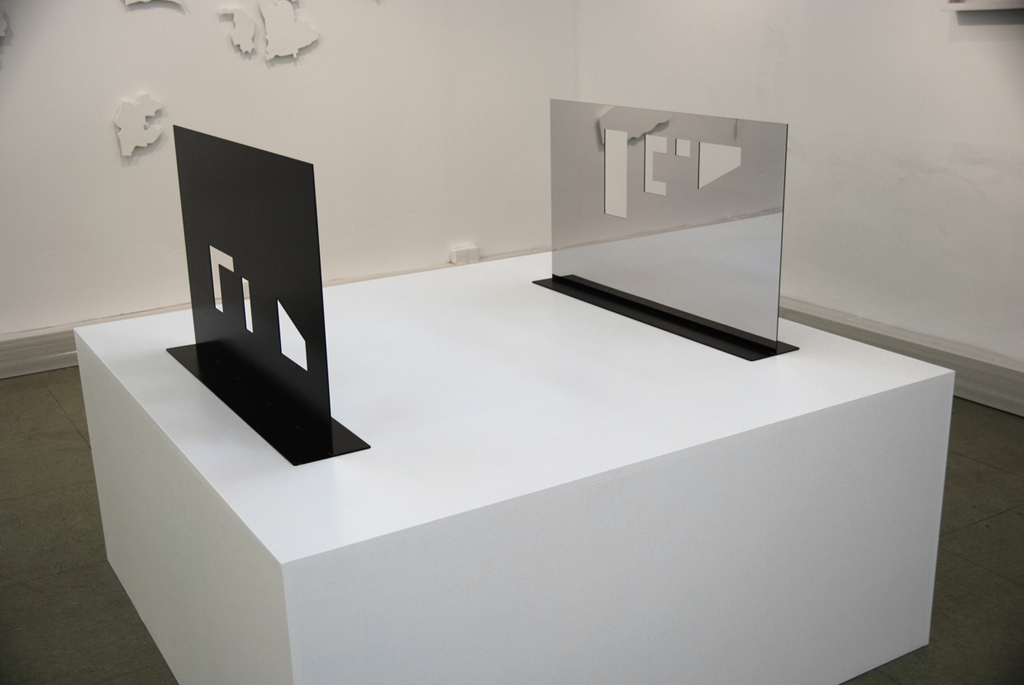 Einfriedung 1, Einfriedung 3, 2012
Dimensions:
Left: 21" (L) x 35" (W) x 6" (D)
Right: 36" (L) x 20" (W) x 6" (D)
Stainless steel mirror, industrial paint
Courtesy of Studio Babak Golkar and the Third Line gallery
Einfriedung 1, Einfriedung 3, 2012
Dimensions:
Left: 21" (L) x 35" (W) x 6" (D)
Right: 36" (L) x 20" (W) x 6" (D)
Stainless steel mirror, industrial paint
Courtesy of Studio Babak Golkar and the Third Line gallery
Einfriedung 1, Einfriedung 4, 2012
Dimensions:
Left: 35" (L) x 21" (W) x 6" (D)
Right: 38" (L) x 22" (W) x 6" (D)
Stainless steel mirror, industrial paint
Courtesy of Studio Babak Golkar and the Third Line gallery
Einfriedung 1, Einfriedung 4, 2012
Dimensions:
Foreground: 35" (L) x 21" (W) x 6" (D)
Background: 38" (L) x 22" (W) x 6" (D)
Stainless steel mirror, industrial paint
Courtesy of Studio Babak Golkar and the Third Line gallery